---
---
Our Vision
Border Cricket will be a world-class community-based sports organisation serving the needs of our cricked community by producing personal greatness and cricket excellence at all levels.
Our Values
Personal commitment and Excellence
A goal-directed and action-orientation
Transparent and accountable governance
The true spirit of sportsmanship
Non-racist and non-sexist inclusivity

Our Philosophy
An equal opportunity for everyone (cricketers & coaches) to excel in the great game of cricket.
Our Motto
Quality with a difference. Together everyone achieves more.
---
Thank you to our sponsors:
---
---
---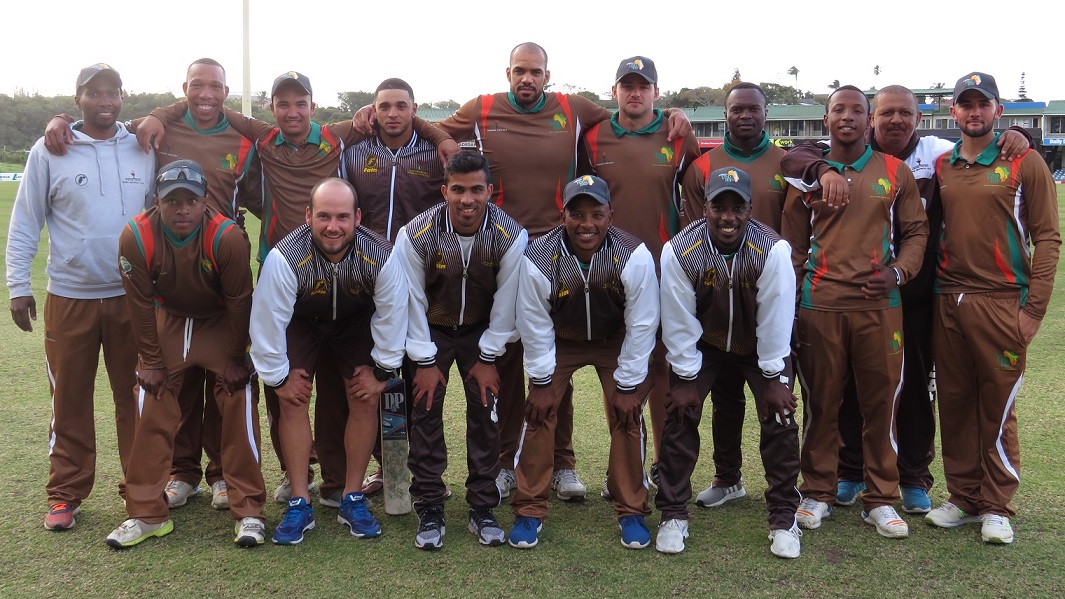 Border Cricket Semi-Pro Team The Border semi-pro team silenced critics when it won the 2014/15 season's Cricket South Africa limited 50-over tournament for the second time. The team also participated in the Sunfoil 3-Day Cup Challenge and T20 Cup challenges. Hats off to the following players for their accomplishments:
| Name | Accomplishment |
| --- | --- |
| Phaphama Fojela | Player of the Season Bowler of the Year |
| Marco Marais | Batsman of the Year |
| Somila Seyibokwe Darryl Brown | Selected to play for Warriors |
| Gionne Koopman | Selected for the CSA National Academy and to play for the Warriors |
| Jerry Ngqolo | Selected for the Invitation XI vs West Indies match |
Border Cricket Academy

Purpose of the Academy
The development of natural talent, skill, mental attitude, and general cricket knowledge as well as cricket etiquette plays a major role in the development of a young cricketer. The philosophy is to take the high potential school level and develop the cricketer who, as a more "polished product", can operate at club level and if good enough go on to represent Border and then South Africa.
It concentrates on what could be considered the top 10% of the schoolboy pyramid and is unashamedly an excellence programme.
The above though does not imply that it is an exclusive programme that disregards the need to be accessible and representative of all communities. Like all programmes in South Africa there is an acute need to recognize our imbalanced history.
In managing the Academy, very real cognizance is taken of the aspect and what follows is a reflection of the Border Cricket approach.
Target Audience
Accepting the Border Cricket philosophy of growing from growing within the target audience is all schools and clubs in the province. However, it does not ignore applications from outside the province as it is considered healthy to accept players from outside the province each year.
Selection Criteria (Player)
Track record Players will have to show that within their career they have achieved a certain level of cricketing excellence. It is understood due to historical reasons certain players have greater opportunities to expose their talents. The selectors will take note of this and spend time balancing selection based on track record and potential/promise.
Age Only cricketers/ players between 18-23 year age group will be considered as the candidates for acceptance.
Potential/Promise The selectors will be called on to make a judgment call on the player's potential particularly if his track record does not reflect that positively.
Capacity to learn As the academy year is a learning year the ability of the players to commit himself to the learning process is considered important. This is not easy to gauge but if possible will be taken into account.
Border loyalty The desire of the player to remain in the province and represent Border is of paramount importance.
Academy duration period The academy operates on a 1 year period – January – December of each year. The candidates showing the best performances/capabilities will be offered a contract of 3 years. These candidates will receive all benefits i.e. bursary, equipment/allowances and accommodation support as well as specialist services support via the SACA programme
For more information contact Deon Muller on 043 709 9709 or deonm@bordercricket.co.za.
Rural

The rural cricket season has three major activities; the Rural Cricket of South Africa (RCSA) competition, Amacal'egusha Cricket Tournament and Ngumbela Cricket Tournament. It is during these games that the talent embodied in rural communities is showcased. The players that do well in the two regional tournaments get an opportunity to represent their regions in the RCSA competition.
The RCSA competition forms the epitome of the country's rural cricket participation. Border Cricket has three teams representing at RCSA namely Border Country, Border Aloe and Border Village. The Border rural team is selected from former district areas such as King Williams Town, Middledrift, Alice, Healdtown, Queenstown, Stutterheim and Aliwal North.
All three border provincial rural teams qualified for Cricket South Africa National Week held in February 2015. A special word of thanks must be extended to Mr. Ngumbela who in the challenging economic times still finds a way to support cricket in our region.
The following players were selected for higher honours:
SA Rural

Mkhululi Calana
Loyiso Mdashe
Lwando Lwana
Avumile Mnci
SA Rural U17
Zibele Ngxolwana
Aphiwe Linda
WOMEN'S CRICKET
The 2014/15 cricket season saw the introduction of Women's Cricket with a roadshow to the areas of Healdtown, Alice, Middledrift, King William's Town and East London to promote the game amongst women and girls. This was followed by a six–a–side cricket tournament which was held in September 2014 at the Fort Hare University.
The season's winner was King William's Town, with Middledrift and Healdtown in second and third place respectively. The Women's Executive, led by Chairperson Zizo Papu, spearheads the campaign to developing the game amongst women and girls.
The following three players are part of the CSA High Performance Programme:

Ayabonga Khakha, who was awarded with a CSA national contract
Zintle Mali, who attended the National Academy
Maryke Kirschoff, who was selected for the Emerging Squad
Youth Cricket
Border Cricket is passionate about enabling youngsters to get involved in cricket and to improve as players. The Youth Cricket programme gives boys and girls the best possible environment in which to learn about the game, improve their skills and to experience competitive opportunities. Administration
The administration of youth cricket at Border consists of school committees at provincial and regional level as follows:
| | | |
| --- | --- | --- |
| Name | Region | Position |
| Clive Makhasi | Alice | Chairperson |
| Mfuniselo Sam | King William's Town | Vice-chairperson |
| Claud van Dyk | Queenstown | Secretary |
| Rod Harris | East London | Treasure |
| Mark Berndt | East London | Additional |
| Dave Osborn | Queenstown | Additional |
| Dave Alers | East London | Additional |
| Sandy Flanagan | East London | Girls cricket |
Provincial Schools
The Border Cricket Schools Union is the custodian of the game of cricket in the Border region. Between the months January and March, all age group squads are reviewed by selectors for selection into the final team. From June to August all teams, their coaches, as well as the Border Cricket coaching department take part in the winter programme. Between September and November all teams are put into their paces in preparation for National Weeks that kick-off in December.
In summary, the key areas of focus areas of youth cricket are:
The identification of squads
The winter coaching program
Trials and team selections
Pre-tournament preparation
National Weeks

The regions have mid-week league and Saturday league fixtures. Through Cricket South Africa (CSA), high school cricketers are further exposed to the new vibrant, short version of the game through the annual Coca-Cola Schools T20 Challenge. The competition has grown in popularity with 48 schools competing from the various regions to determine teams that will make it to the final. The first round of the competition was played in the regions and all teams that did well progressed to the regional play-off stage. Congratulations to Dale College for being the Border champions for the 2014/16 season.
Regional Performance Centres and Hubs

Border Cricket has four hubs that are recognised and funded by Cricket South Africa and they are:

Buffalo Flats Hub – Alfred Schoeman ground
Mdantsane Hub – Winter Rose Park
Middledrift Hub – Wilton Makwayo ground
Healdtown Hub- Ngumbela Park
One of Border Cricket's great features is taking the game of cricket to all corners of the region. The success of the joint venture project at Fort Hare University (Alice) and the Hub coaching programmes demonstrates the commitment Border has to giving every child the opportunity enjoy this wonderful game.
Coach Education
Coach Education supports the development of coaches to ensure that the level of cricket at Border Cricket is on par with cricket standards on a national level. It is important that we support the development of coaches at all levels of the game so that they can provide players with the necessary skills to help them fulfil their potential.
Cricket South Africa has policies in place for level 1, 2 and 3 coaches at Border to undergo skills development training every year.
Border also has coaches' forums scheduled for October and November 2015. These forums are an opportunity for coaches to meet and share coaching knowledge. It is with pride that Border acknowledges the following coaches for acquiring their level 3 coaching certificates:

| | |
| --- | --- |
| Name | Designation |
| Aviwe Mfiki | Head coach of Middledrift HUB and Border Village teams |
| Andre De Beer | Head coach of Border and Stirling High School U/15 teams |
| Scott Tarr | Head coach of Border U/17 and Stirling High School U/19 teams |
For more information on courses, please contact Raymond Booi on 043 709 9763 or raymondb@bordercricket.co.za.
Club Cricket
Club Cricket season starts from the first weekend of October each year up until the last weekend of March of the following year. The United Cricket Club dominated club cricket the 2014/15 season by winning the T20 and Premier League competitions.

Border Cricket administers five major leagues as follows:

| | |
| --- | --- |
| Premier League | 10 teams |
| Promotional League | 9 teams |
| Premier Reserve League | 10 teams |
| Reserve League | 11 teams |
| Second League | 13 teams |
For more information contact the Border Cricket Club & Facilities Co-ordinator, Caroline Krause, on 043 709 9707 or via email on carolinek@bordercricket.co.za
League Stats


KFC Mini Cricket
KFC Mini-Cricket began in 1983 to give South African boys and girls their first taste of cricket and ignite a passion for one of the country's most loved games. This softball level gives children the enjoyment that comes with participating in a team sport and also gets them acquainted with the basics of the game.

Mini-Cricket has produced numerous quality cricketers and administrators in the Eastern Cape. This level of the game is important as it lays the foundation of a lifelong interest in the sport. All credit to the lady coaches who, despite challenges faced in the school environment, remain committed and passionate about developing our children.

Provincial festivals and the annual national seminar are highlights on the Mini-Cricket calendar. The seminar is a way of motivating volunteer coaches from our communities and to thank them for their efforts towards inspiring young cricketers.

For any queries please contact Mnonopeli Mfenqe, Provincial KFC Mini-Cricket Coordinator, on 043 709 9736.
The CSA professional cricket system is made up of six regional teams driven by companies each operating within a geographical demarcation encompassing the different regions:

Dolphins (KZ Natal and KZ Natal Inland)
Lions (North West and Gauteng)
Titans (Northerns and Easterns)
Cobras (Western Province and Boland)
Warriors (Eastern Province and Border)
Knights(Griqualand West and Free State)

Grounds: St Georges Park (Port Elizabeth) and Buffalo Park (East London)
CEO: Mark Williams
Coach: Malibongwe Maketa
Office: 041 585 1646
Website: www.warriorscricket.co.za
Facebook: www.facebook.com/warriorscricket
Twitter: @WarriorsCricEC